New classes start every quarter.
Check our Schedule page. Contact us for more information.
Front Office Program Tuition
Total cost for the Front Office Training Program is $2,995
Program Information
Our program will prepare you for success in the most pivotal position of a dental office. With the hands-on training and active participation provided throughout your training experience, you will develop the confidence and professional strengths to prepare you for the numerous employment opportunities within this career. You may call Danielle, our Director of Education, at (425) 806-8816 or email her directly at infodentalassist@gmail.com, to schedule an appointment for a tour of our facility or to answer any further questions you may have about our course. We have enclosed an outline of our dental front office program for you to review. In addition, we have enclosed a registration form for those of you who wish to join us in this class. Since the class fills up quickly, we suggest, that you mail in your deposit and registration as soon as possible to reserve your place.
Our Dental Front Office course is designed to give the student maximum "hands-on" training and experience in an actual dental office. The teaching is stimulating, fast paced, and relies heavily on individual participation. There will be two instructors for 6 students, allowing a tremendous amount of one on one personal instruction and a worthwhile learning experience. A syllabus containing notes on lecture material, as well as an excellent textbook and workbook are provided as to heighten the classroom experience. Classes will run one day a week for 11 weeks from 8:00am-4:30pm.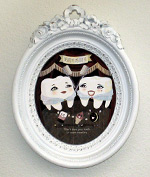 A career of helping people improve their dental health will be rewarding and enormously satisfying for you. No two days will ever be the same and your job will continually renew itself. Properly trained front office personnel are in great demand in the dental field. Front office administrators are the first and last contact patients have when they are at the dental office. Therefore, the front office staff is a vital part of every dental practice. You will learn all aspects of coordinating and managing the dental front office. You will gain knowledge and organizational skills that will set you apart from other dental offices in the following areas; Dental Terminology, Dentrix Software, Customer Service, Patient Treatment Management, Dental Procedures, Dental Philosophies, Dental Software, Communication Skills, Efficient Billing and Recording Systems Management, Insurance Claims Submissions, Account Billing and the Art of Scheduling … just to name a few of the highlights!
Again, thank you for your interest in our program. We look forward to hearing from you and being a part of helping you become a successful Dental Front Office Administrator.
Click here to download the front office application (PDF)